I adore red carpet events! There are always fashion mistakes.. fashion fabulous moments and those blah dresses that say nothing!
I LOVE LOVE LOVE Lady
Gaga's
crazy fashion moments, the
Armarni
Privi
dress was
otherworldly
and so impractical but
exquisite
and the second outfit was just so cheeky!!!! This lady will go down in Fashion History and I can't wait to see what she pulls out of the hat next!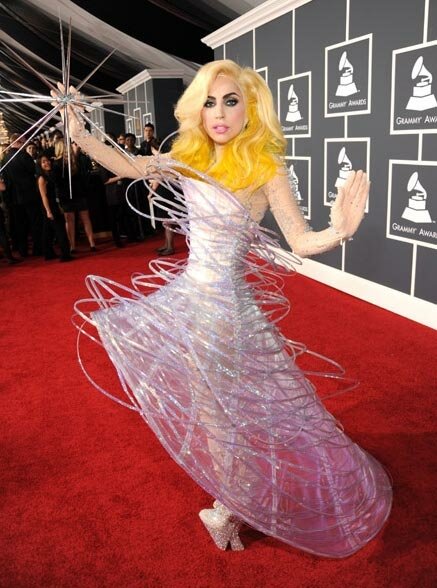 Rihanna
also kept to her edgy fashion look embracing her trade mark shoulders but this time it seemed much more feminine and delicate with the frothy feathers on her Ellie Saab gown! Full marks from me as it mixed glamour, femininity and edgy in one look!
I also have to mention how gorgeous Nicole
Kidman
looked... thank god she has ditched the pale frilly numbers we have been seeing her in of late. She looked every inch the superstar in the
Prada
gown.
Jennifer Hudson also looked fab in a Victoria
Beckham
gown, it hugs her curves in all the right places!! I want me this dress...
Fashion Blah moment...
Keri
Hilson
wore the fab
Dolce
and
Gabbana
mermaid dress but having seen the same dress on Gary
Barlows
wife Dawn in the OK photos of there marriage renewal, it seemed a bit.. well.. Blah.
I also felt very underwhelmed by
Fergie's
cobalt
Blue Emilio
Pucci
dress... sexy it was exciting it was not!
Then we have the what were you
thinking's
... Guess who, yes Britney! Why is she so capable of turning a fab outfit into something slightly trashy? and why does her stylist let her? This
Dolce
and
Gabbana
outfit is not for the faint hearted it being sheer and all, but Britney wearing it makes it seem cheep! They need to glam her up in a much more subtle way! That way people might stop thinking she is crazy.. but as it stands I am still not convinced!